The Art of Suzanne Lowry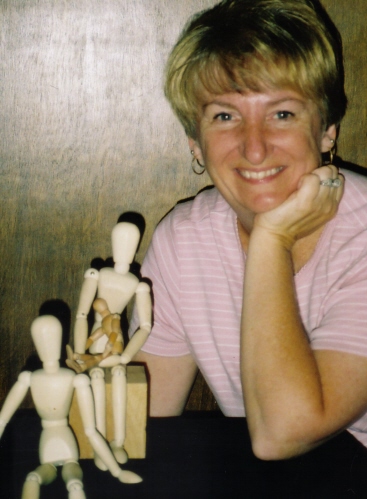 "Practically born with a camera in my hand, photography was my introduction to the arts. At a very young age, I became known as "the class artist" as a love of drawing and painting developed. Then, I discovered sculpture. I suit my media to my mood. I believe that true photography is a marriage between the eye and the camera. My tools are natural light, simplicity, and symbolism. I use the computer only for techniques that I have previously practiced in a more expensive and time-consuming manner in the darkroom. While I greatly respect the art of digital manipulation and have created some delightful products that way, I don't consider it to be true photography.

Having experimented with dozens of media for drawing and painting, I happily switch and combine a variety of techniques. I match the media to the demands of a project. Sculpture has become an obsession and my work continues to evolve. I now create an armature from recycled materials, cover it with copper strips, sheet copper and aluminum. I then solder joints and completely solder some parts. Fresh copper is chemically plated on the surfaces. Findings are added and the piece is mounted on a mosaic base." Artist Suzanne Lowry
Blessed with the encouragement and guidance of such master artists as Ed Karasek, June Kelly, David and Shawn Cornell, and Billyo O'Donnell, Suzanne Lowry's work has won numerous awards and has been selected for juried shows throughout the region, including the Greater St. Louis Art Association's Festivals of Art at Queeny Park; MOsaics (Missouri Festival of Fine Art) and Spring ArtWalk in historic St. Charles, MO; Art in the Park in Highland, IL, and gallery exhibits of the St. Louis Artists' Guild in Clayton, MO, the Foundry Art Centre in St. Charles, MO, the Jacoby Art Center in Alton, IL, the Hettenhausen Center for the Arts in Lebanon, IL, and Framations Gallery in St. Charles, MO. Suzanne's creations reside in numerous permanent private and corporate collections, as well as a developing museum collection.
"Life According to the Little Guys" is a 40-page book, containing approximately 30 Man-a-Kins photos and their philosophy of life. Also available in the gallery. These full color images are from Suzanne's Man-a-Kins series. $25.00 Buy it Now

Some of her awards include best in sculpture and best in photography, Gateway East Artists' Guild Exhibits; The American Frame and Gallery Award, Avenue of Art, Shrine of Our Lady of the Snows; and twice best in black and white photography, Cahokia Mounds Photography Competition, where her photography has appeared as cover art on a quarterly publication. Suzanne's work was also featured in solo and small group shows at the Absolutely Starving Art Studio, Belleville, IL; Jacques in Collinsville, IL; Framations Gallery in St. Charles, MO; The Oregon Trail Roasting Company, and the Art on the Square Gallery in Belleville, IL, among others. Her sculpture and photos have received Awards of Excellence, qualifying them to travel throughout the state of Missouri in exhibits to benefit humane animal legislation.

For many years, Suzanne has been a signature member of the St. Louis Artists' Guild, board member of the Gateway East Artists' Guild, founder of the Artists' Registry for Charitable Events, a member of the Foundry Art Centre and Jacoby Art Center. She is a resident artist at Framations Art Gallery in Historic St. Charles, MO.

See more of Suzanne's work on her website.

Suzanne Lowry created the "Man-a-Kins" photo series, with the tag line "Little guys just trying to get by in this great big world".
Lowry has hundreds more in this series and will also do special topics by request.