Current Coupons and Promotions
Visit Framations for affordable and friendly custom framing!


Donate to our annual collection for the Shower of Love!
March 10 - April 20, 2017 and get 15% off your total framing order!
No Coupon Necessary!
The Shower of Love is a collaborative countywide collection drive for new baby care essentials and monetary donations for young moms and babies in St. Charles County, Missouri.
The mission of the Shower of Love is to provide tangible support for young moms and their babies with the hope of eradicating child abuse and neglect in our county.
In April each year, businesses, churches, schools, community groups, neighborhoods and individuals host collection drives or baby showers to collect baby items. Items collected are transported to a central location where they are sorted and divided equally among the 9 partnering agencies, such as Crisis Nursery and Sts. Joachim &Ann Care Services. The items are then distributed to moms and babies right here in St. Charles County.
Most-needed donations:
♥ Enfamil Formula ♥ Diapers (esp. sizes Newborn, 1, 4, 5 & 6) ♥ Pull Ups
Other Donations Requested
♥ Baby wipes ♥ Baby lotion ♥ Baby wash/shampoo ♥ Pacifiers
♥ Nursing Supplies ♥ Bottles/nipples ♥ Baby Biscuits ♥ Gerber Graduates
♥ Teething Rings ♥ Pedialyte ♥ Diaper rash ointment ♥ Sippy cups
♥ Vaseline ♥ Digital thermometers ♥ Fragrance Free or Baby Detergent
(NOT needed: Baby food (jarred and cereal) and baby powder are not needed at this time.)
"What to Expect When You're Expecting" books (gently used also accepted)
*New, opened packages of diapers are accepted. This is a great way to donate your diapers that your child has outgrown. (Please mark the size on the outside of the package.)
**Enfamil-brand formula is requested because WIC distributes this brand to families, and it's best to keep baby on the same brand of formula.
---

Save on Custom Framing at Framations when you see art in our community!
Framations believes that art, in any shape or form, enhances our lives & brings communities together thru creativity & discussion. We encourage you to partake in as many art experiences as possible! Present your ticket stub from any current season Act II Performance and save 10% on your custom framing order at Framations!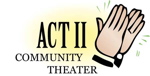 ACT II Community Theater, based in St. Peters, Missouri, is an independent, non-profit organization comprised entirely of volunteers. ACT II nears almost 20 years of producing entertaining theater in St. Charles County. The group has produced more than 50 top-notch, well-reviewed comedies, musicals and dramas. ACT II is proud to have given hundreds of amateur actors a forum to realize a dream. Most notably, it has provided thousands of patrons a venue to experience live theater right in their own hometown. It has truly become a community treasure.
ACT II's mission is not only to entertain audiences, it is also to educate and enlighten anyone with an interest in theater. To become a part of bringing ART TO LIFE please visit Act II's website for more information.
Need more information? Have Questions? please contact Framations at 636-724-8313 or email framations@earthlink.net Thank you for supporting local art in our community!
The images contained on this site are copyrighted by the artists
and cannot be downloaded, copied or used without written permission.
Framations Custom Framing & Art Gallery ~ 218 North Main Street ~ St Charles, Missouri 63301 ~ (636)724-8313