Current Coupons and Promotions
Visit Framations for affordable and friendly custom framing!

Your gifts will be rewarded!!!
Donate to our Shower of Love Collection Drive April 1 - 24 and receive 15% off your total framing order.

Help us support local families in our community by donating to the Shower of Love!

The Shower of Love is an annual collaborative countywide collection drive for new baby care essentials for young moms and babies in St. Charles County, Missouri.

Framations will collect items April 1 - 24. Receive 15% off your total framing order when you donate to the drive!
For more information about the Shower of Love and other ways you can help, visit the website for Shower of Love. Donated items are distributed to agencies throughout St. Charles County such as Crisis Nursery, Birthright-St. Charles and Wentzville, Mary Queen of Angels, Nurses for Newborns, Our Lady's Inn, ThriVe St. Louis, The Sparrow's Nest Maternity Home and Youth In Need.
To learn more about the Community and Children's Resource Board of St. Charles County, visit their
website
.
---

Save on Custom Framing at Framations when you see art in our community!
Framations believes that art, in any shape or form, enhances our lives & brings communities together thru creativity & discussion. We encourage you to partake in as many art experiences as possible! Present your ticket stub from any current season Act II Performance and save 10% on your custom framing order at Framations!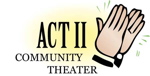 ACT II Community Theater, based in St. Peters, Missouri, is an independent, non-profit organization comprised entirely of volunteers. ACT II nears almost 20 years of producing entertaining theater in St. Charles County. The group has produced more than 50 top-notch, well-reviewed comedies, musicals and dramas. ACT II is proud to have given hundreds of amateur actors a forum to realize a dream. Most notably, it has provided thousands of patrons a venue to experience live theater right in their own hometown. It has truly become a community treasure.
ACT II's mission is not only to entertain audiences, it is also to educate and enlighten anyone with an interest in theater. To become a part of bringing ART TO LIFE please visit Act II's website for more information.
Need more information? Have Questions? please contact Framations at 636-724-8313 or email framations@earthlink.net Thank you for supporting local art in our community!
The images contained on this site are copyrighted by the artists
and cannot be downloaded, copied or used without written permission.
Framations Custom Framing & Art Gallery ~ 218 North Main Street ~ St Charles, Missouri 63301 ~ (636)724-8313