The Art of Shirley Nachtrieb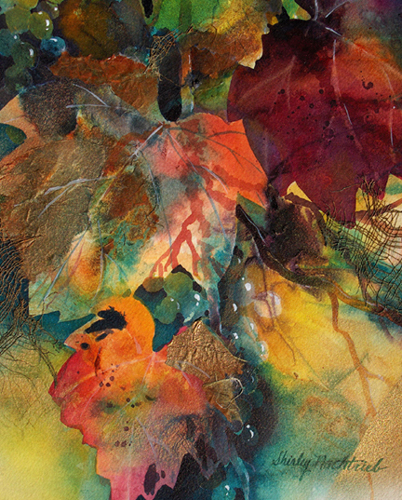 Shirley Nachtrieb, a graduate of Fontbonne College, resides in St. Charles, Mo. She has been a freelance artist and teacher for over 40 years. Shirley is a signature member of the Society of Layerists in Multimedia, St. Louis Watercolor Society, the International Society of Experimental Artists, and the Missouri Watercolor Society. She is also a distinguished member of the St. Louis Artist Guild and a juried member of the Best of Missouri Hands. Shirley paints and teaches throughout Missouri and bordering states. Her painting mediums include watercolor, pastel, acrylics, mixed media, fiber, and handmade books.
Shirley is a four-time winner of the prestigious Grumbacher Award of Excellence. She is represented in Rockport Publisher's book, Creative Watercolor by Mary Ann Beckwith. The Society of Layerists in Multimedia has accepted Shirley's artwork in two of their books: Metaphors of Time and Space Through Layering and The Art of Layering: Making Connections. Several of her watercolors have appeared on the covers of the Country Register magazine. Her paintings have also appeared on several of St. Louis Home Builder's Fall Home Show posters. She does freelance work for the McDonald Publishing in St. Louis, MO, designing posters for the school classroom. Her collage work has been published five times inSomerset Studios Magazine. Her artwork has been represented in Nita Leland's books: Exploring Color, The New Creative Artist., Confident Color: An Artist's Guide to Harmony, Contrast and Unity, and New Creative Collage Techniques. Her artwork has also been represented in Watercolor Magic Magazine. Shirley's artwork appeared in two of Chris Unwin's books: The Artistic Touch 4, and The Artistic Touch 5. In 2011 Shirley's work appeared in Sue St. John's e-book, A Walk Into Abstracts. Most recently, Shirley's inspired paintings have appeared in Who Is God Book I, II, II, and IV by GDP Studios.
Shirley's artwork may be seen on several websites including: www.bestofmissourihands.com, www.nachtrieb.com, and www.mowsart.com,www.missourifiberartists.com,and www.slmm.org. In 2015 Northside Artists' Guild filmed Shirley doing a watercolor collage demonstration: https://www.youtube.com/watch?v=-j3VnsbutrQ.
Gallery affiliations include Framations in St. Charles, MO, http://www.framations.com/nachtrieb.html,MacCreed's Art Gallery in Lebanon, MO www.maccreedsgallery.com , Art Impressions Gallery in Sedalia, MO, http://Artimpressions.net , Componere Gallery in St. Louis www.componere.com, and Museum Contempo in Olympia, WA. For more information, the artist may be contacted at shirley@nachtrieb.com.
In August of 2006, Shirley's artwork was represented in Nita Leland's new book, The New Creative Artist. In 2008, Shirley 's artwork also appeared in another Nita Leland book, Confident Color.
$29.99

.99

Art work by 120 artists (including Framations Resident Artist Shirley Nachtrieb) are presented in The Artistic Touch 4.
$35.00

Shirley Nachtrieb's artwork may be seen on several websites including:
www.nachtrieb.com
www.bestofmissourihands.com
www.mowsart.com

Gallery representation:
Framations Art Gallery (St. Charles , MO)
Norton's Fine Art Gallery (Clayton , MO)

Shirley is always willing to discuss custom work to fit your needs.
Artist Shirley Nachtrieb may be contacted at (636)-947-1936
or e-mailed at shirley@nachtrieb.com.

UPCOMING EVENTS & CLASS SCHEDULES (More info)
.
The images contained on this site are copyrighted by the artists
and cannot be downloaded, copied or used without written permission.
Framations Custom Framing & Art Gallery ~ 218 North Main Street ~ St Charles, Missouri 63301 ~ (636)724-8313