Hours and Location
Hours of Operation:
Our current hours are Tues - Sat: 10-6
To help prevent the spread of COVID as a business, we will do our best to:
*Regularly clean and disinfect high-touch surfaces *Ask that employees and guests who are sick stay home
*Offer hand sanitizer at our counter for guests *Ask that our customer respect social distancing
*We will wear a mask when interacting with customers and recommend our customers do the same as suggested by local health officials and the CDC
*Limit our guests to 10 visitors at a time (per guidelines based on square footage and layout of our business)
We are also closed on these major holidays:

New Year's Day Easter Sunday Independence Day
Thanksgiving Day Christmas Eve Christmas Day
New Year's Eve
Click here for detailed directions to Framations!
or
By clicking on the logo below, you can see a map of the area and then get directions to our location.
---
Located on Historic Main Street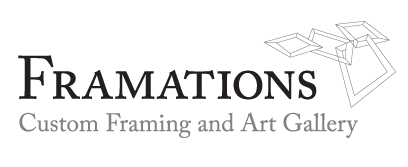 218 N Main Street
Saint Charles, MO
United States
63301 If you need further help with directions, please call and we will do our best to assist you. You can reach us at (636) 724-8313.
The images contained on this site are copyrighted by the artists
and cannot be downloaded, copied or used without written permission.
Framations Custom Framing & Art Gallery ~ 218 North Main Street ~ St Charles, Missouri 63301 ~ (636)724-8313