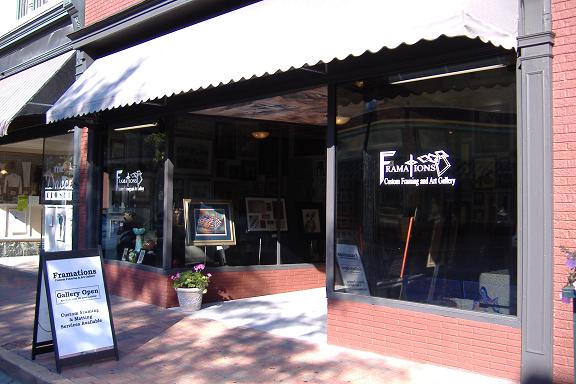 Framations Custom Framing & Art Gallery offers fast, friendly, and affordable custom framing & matting services. With many frame styles in stock, most orders are completed in 2-3 working days. If you don't see a frame style that works for you from our instock frame selections, then choose from our hundreds of special order frame styles! With over 20 years experience in the custom framing industry, you can rest assured that your work will be handled with care. We will inform you of all of your choices for custom framing, not just the most expensive ones! We want you to be happy with the framing & matting you choose!
We also offer fast custom matting at the best prices! Bring in your frame & we will be happy to cut a mat to fit your frame for you. We can also create multiple opening mats for you!

SEE CUSTOM MAT OPTIONS


At Framations, choose from acrylic or glass in your custom frames. Acrylic is available in Clear, non-glare or UV. Acrylic is much lighter and safer and recommended for all polystyrene frames. (Glass shatters on impact, often destroying your artwork. Acrylic may crack, but it will not shatter. It is also safer to hang above your sofas, beds & in children's rooms!) We also carry Novus acrylic cleaners in stock to care for your acrylic. In glass, we carry regular, non-glare & conservation grades, so you can protect your artwork at the level you choose.
Just need a new piece of acrylic, glass, backing, or hangers? Great! See us at Framations for repairs & replacements pieces. We will do our best to fix it for you, but if we cannot... we will tell you that, too! Hopefully, we will be able to recommend someone to you, also.
At Framations, we strive for the absolute BEST customer service! Whether your order is $1.00 or $10,000.00, we treat all of our customers with the same fantastic customer care. If you need no pressure advise on your order, help picking out framing or matting or artwork, questions about pricing, or need referrals for services we cannot provide, please contact us! We are here to help! We want you to enjoy your framed artwork....your way!
CONTACT FRAMATIONS FOR A QUOTE
SEE SAMPLES OF SOME OF OUR WORK
LEARN HOW TO MEASURE YOUR ART FOR FRAMING


Sign up for Framations mailing list to receive art exhibit announcements, custom framing specials & upcoming events information!